Over the next week, I will release three posts about some of the earliest surviving Charlie Chaplin films. They are only short and, to make it even better for you the readers, is how you will be able to watch the films yourself too as the films are so old, no one
owns the copywright!
This is one of the earliest surviving films of Charlie Chaplin showing us his skills but not in guise of the iconic 'Little Tramp' character. The story is difficult to grasp without reading a synopsis - I simplified it to show an out-of-work man is conning another out of his money, woman and job. On closer inspection, Chaplin is actually an out-of-work reporter, who is not only swindling people out of their money, but also stealing rival journalists camera's to make money through his newspaper.


What is important about this film is that, not only is it the first Charlie Chaplin film, but it is also a film that features The Keystone Cops. The waving of truncheons and chasing, and fighting, is a feature of these comedians but Charlie Chaplin brought more intelligence to comedy - though he was incredibly skilled at slapstick (and this film shows Chaplin ultimately doing what he is told to do) we are not seeing anything too complex or with deeper subtext. Even the next film, Kid Auto Races at Venice, we will see more intelligent comedy that I believe already is miles ahead of the Keystone Cops comedy of chasing and falling over.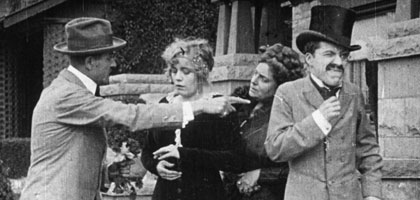 The Origin of an Icon
Charlie Chaplins trademark character of 'The Tramp' does not feature here whatsoever, but we can see many characteristics that would become a part of him - the hat, the stick and the cigar. The character, dubbed Edgar English, is arrogant and smug but the tipping of his hat and clumsiness is refined and more-likabale (Edgar is anything but likeable) in the character of 'The Tramp'.


The film premiered on 2nd February 1914 and was produced by Mack Sennett, the man who established the Keystone Studios in 1912. Sennett would be the man who would establish Chaplin and the directed, Lehrman, would also direct Chaplin in his next feature film ...